Stinson Aircraft Links and Resources
This page created 12/98, Updated 5/15/14.
Information Sources:
Flight Lines - Dave Miller's web site - aviation art and floatplane data, plus the Stinson Model Guide - data and photos.
International Stinson Club - (formerly the Southwest Stinson Club) - an active membership organization for Stinson enthusiasts with more than 500 members world-wide.
National Stinson Club - a type club for enthusiasts of (primarily) pre-war, round-engined Stinsons. Contact George Alleman, 1229 Rising Hill Road West, Placerville, CA 95667, 530-622-4004, nscgeorge@internet49.com.
Sentinel Owners and Pilots Association - provides support for owner's, pilot's and enthusiasts of Stinson L-5, OY-1 and OY-2 aircraft. Added 10/14/02.
Stinson 108 Voyager Pages by Larry Westin - perhaps the most extensive accumulation of information on the Stinson 108 series to be found anywhere on the web. Highly recommended! Link updated 2/4/14.
Stinson Reliant Home Page - a website devoted to Reliants and other round engine Stinsons, by Todd Matthies. Added 2/20/02.
StinsonFlyer.com - Dave Talley's Stinson 108 site - includes extensive info from Larry Westin. Added 2/26/01.
ISC Knowledge Base - a compilation of technical information from the International Stinson Club. Available to ISC members for purchase on CD-ROM. Replaces the old paper "Technical Corner." This is a "must-have" for Stinson owners who do their own maintenance. $27 payable to the ISC. Mail to: Joe Dexter, 10497 Alta Mesa Road, Wilton, CA 95693. Added 3/14/04
Stinson Historical & Restoration Society (SHARS) - published the SHARS Journal, three issues per year. Cost is $30 per year. First issue (Volume 1 - Number 1) published July 2000. SHARS replaces the National Stinson Club, 108 section that had been run by Bill and Debbie Snavely until the spring of 2000. SHARS will not be a type club, but will serve as an umbrella group with a focus on the history of all models of Stinsons. Contact Robert Taylor, Editor, P.O. Box 127, Attumwa, IA, 52501. Phone 515-938-2773. Fax 515-938.2084. E-mail aaaapmhq@pcsia.com.
The YAHOO Stinson discussion group - an online discussion group for Stinson enthusiasts - open to all. Originally established by Dave Miller, now hosted by Gary Marshall. Added 9/24/02, Updated 7/8/13.
Vintage Aircraft Association - the division of the Experimental Aircraft Association for vintage airplane enthusiasts. Membership includes a subscription to Vintage Airplane magazine, shown below. EAA Aviation Center, PO Box 3086, Oshkosh;, WI 54903-3086. Phone 920-426-4800, E-mail: Vintage@eaa.org.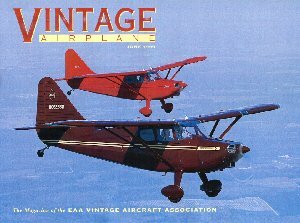 On the June, 1999 cover of Vintage Airplane, a pair of beautiful Stinson 108-3s shot during the 1999 Sun 'n Fun EAA Fly-In. In the foreground is the NC6233M restored by Butch Walsh of Arrington, Virginia and right off his left wing is Don Goodman with his N717C. Photo by EAA's Jim Koepnick. NC6233M was Grand Champion Classic at Oshkosh '99! N717C won best Custom Classic (Class C 151-235 HP) at Oshkosh '99. Click on image for larger view.
Parts and Services:
Back to the Hangar 9 Aeroworks Main Stinson Page