Stinson Aircraft Gallery
This page created December 1998
Updated 6/16/13
Click on the image for a full-size photo.

Here are some photos of Stinson aircraft from around the world.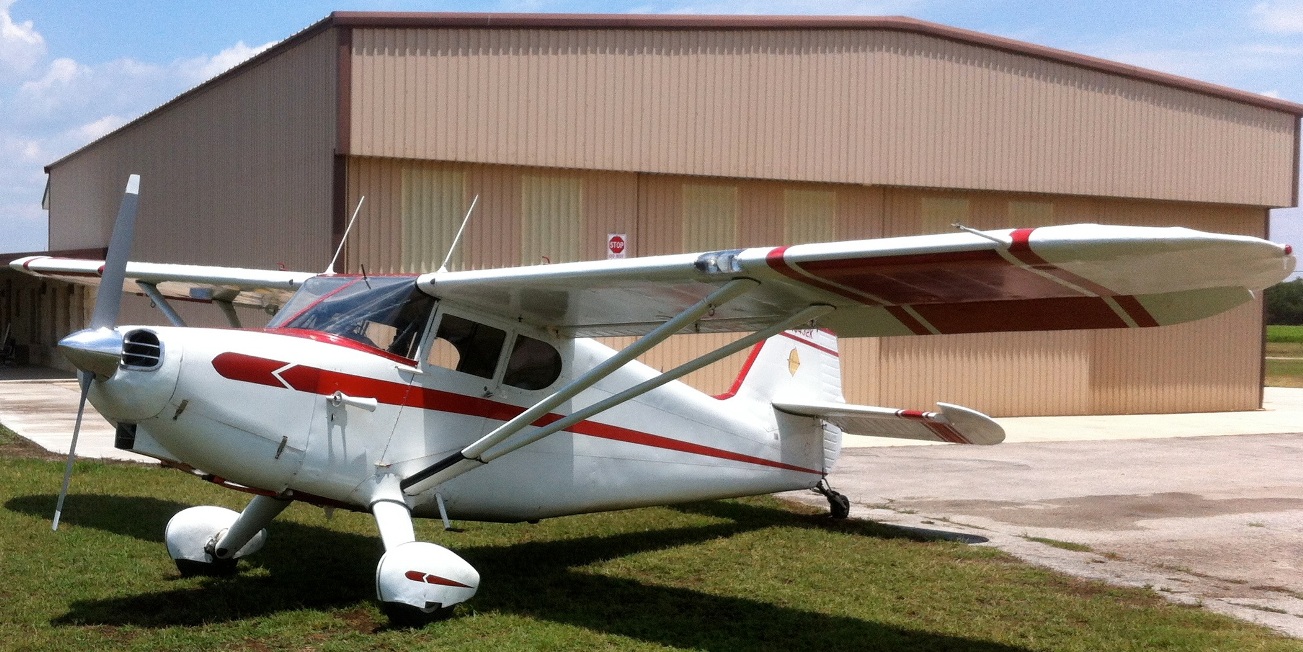 June 16, 2013. Matt Humes sent this photo of his metalized 108-2. N9432K, serial number 108-2432, is based east of San Antonio, Texas at Zuehl Field (1TE4). Matt acquired it in 2011 from a family friend and flew it home from Colorado where it had been owned and based for more than 40 years. When new, it was owned by Ms. Molly Bernheim of North Carolina, who wrote about her flying this Stinson called, "A Sky of My Own". Matt's wife subsequently named the airplane, "Miss Molly". Matt is currently stationed in Germany with the USAF, but looks forward to flying his Stinson when he retires and gets back home.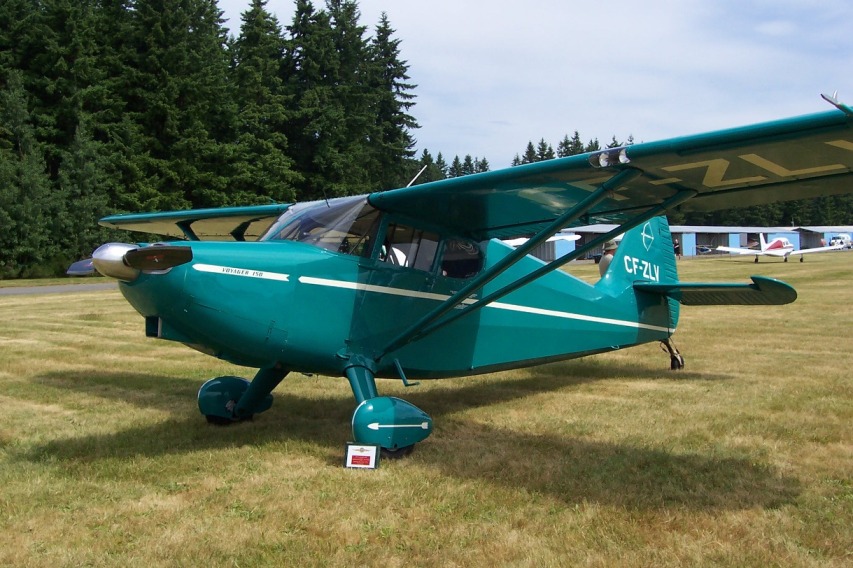 June 30, 2012. Mike Benoit sent this photo of his award-winning Stinson 108-1. Mike restored this from a basket case that had not flown for more than 30 years. Notice that it has a rare Aeromatic propeller and float fittings. Mike makes and sells reproductions of the interior dome light covers, details here. Mike is an air traffic controller in British Columbia, Canada.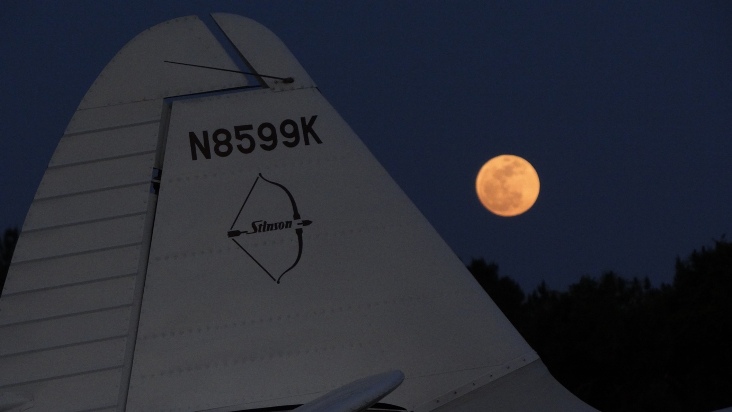 May 21, 2012. Lynn O'Donnell sent this photo of her Stinson 108-2 with the "Supermoon" rising over the tail on May 5, 2012. Lynn, a retired United Airlines 767 Captain, is based at Spruce Creek in Florida.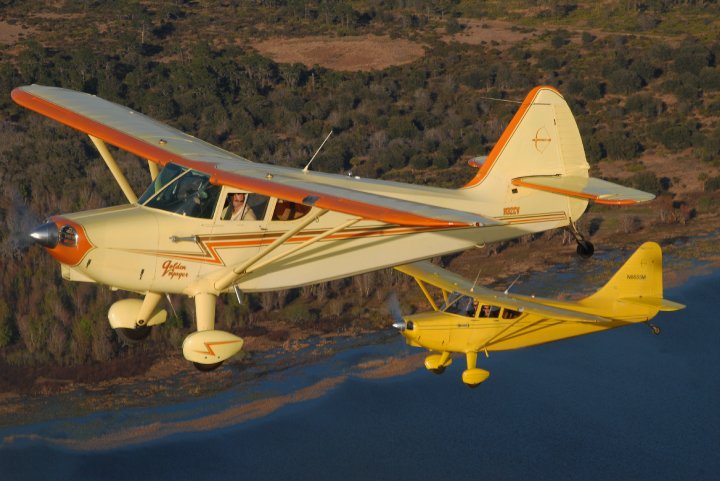 March 23, 2012. Herk Strumpf sent this photo. In the foreground is his "Golden Voyager."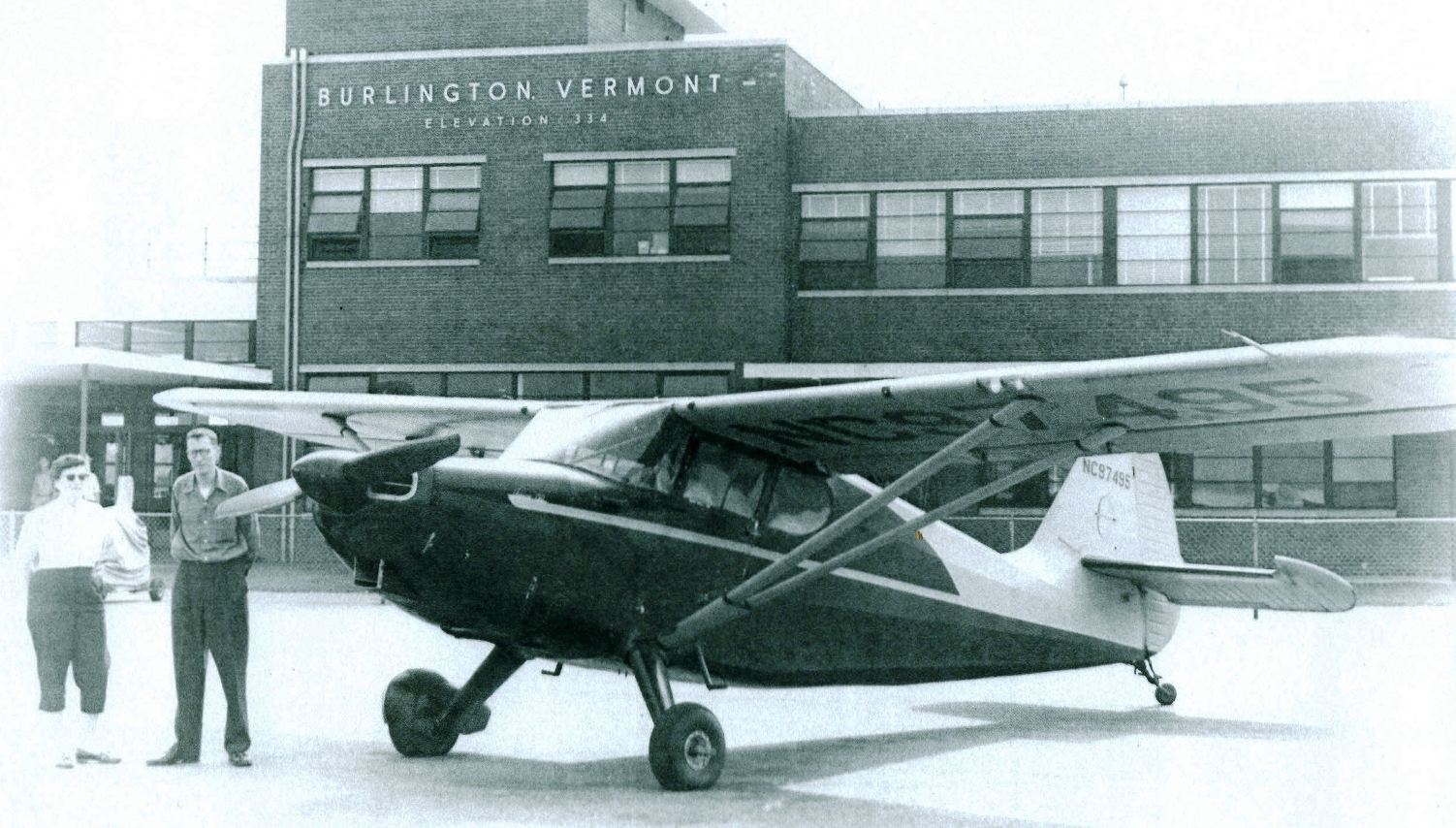 December 27, 2011. Brandon Banks sent this vintage photo and a note: "I just got the attached picture from a family member. It shows my aunt, the late Florence "Floddie" Brooks and her friend Bill Davis. Taking the picture is my uncle, David Brooks. The three of them owned the Stinson in the picture, NC97495. They were on the way back from Canada and stopped in Burlington, Vermont to clear customs." The photo was taken on July 4, 1955. FAA records show the plane was deregistered in the early 1970's. Brandon (brooks@kyw.com) would like any information on the fate of NC97495. There are several interesting things about this "straight" 108, serial 108-495. Notice that the left wheel pant is missing while the right one is attached. One wonders if it was flown that way. Also note the Aeromatic prop and oversized spinner. And finally, note the stall warning indicator vane on the leading edge, just to the inside of the landing lights. One does not often see these on early Stinsons.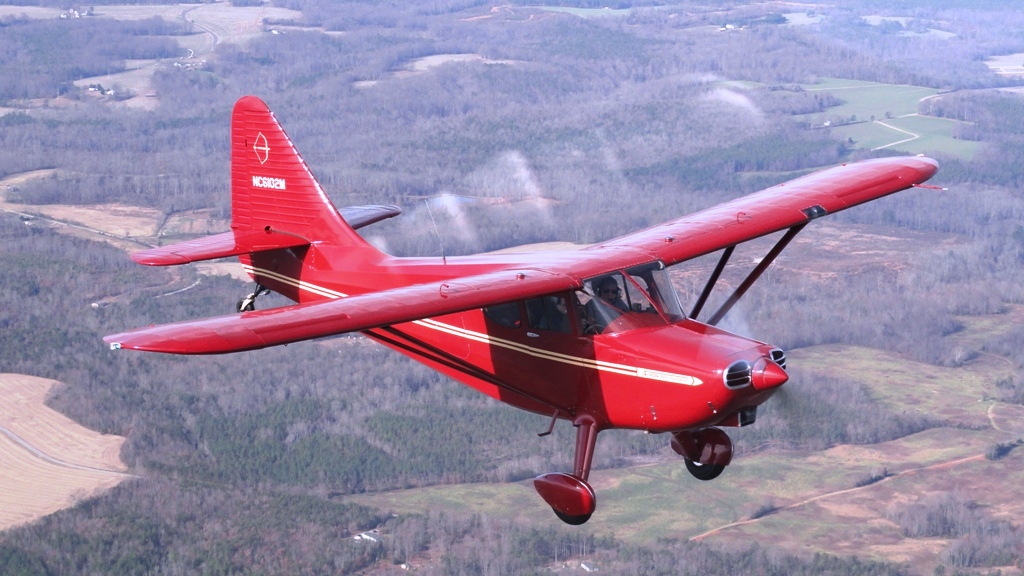 December 14, 2011. Dennis Crenshaw sent this in-flight photo of his beautiful 108-3, NC6102M. Dennis keeps his Stinson at Hanover County Airport near Richmond, Virginia.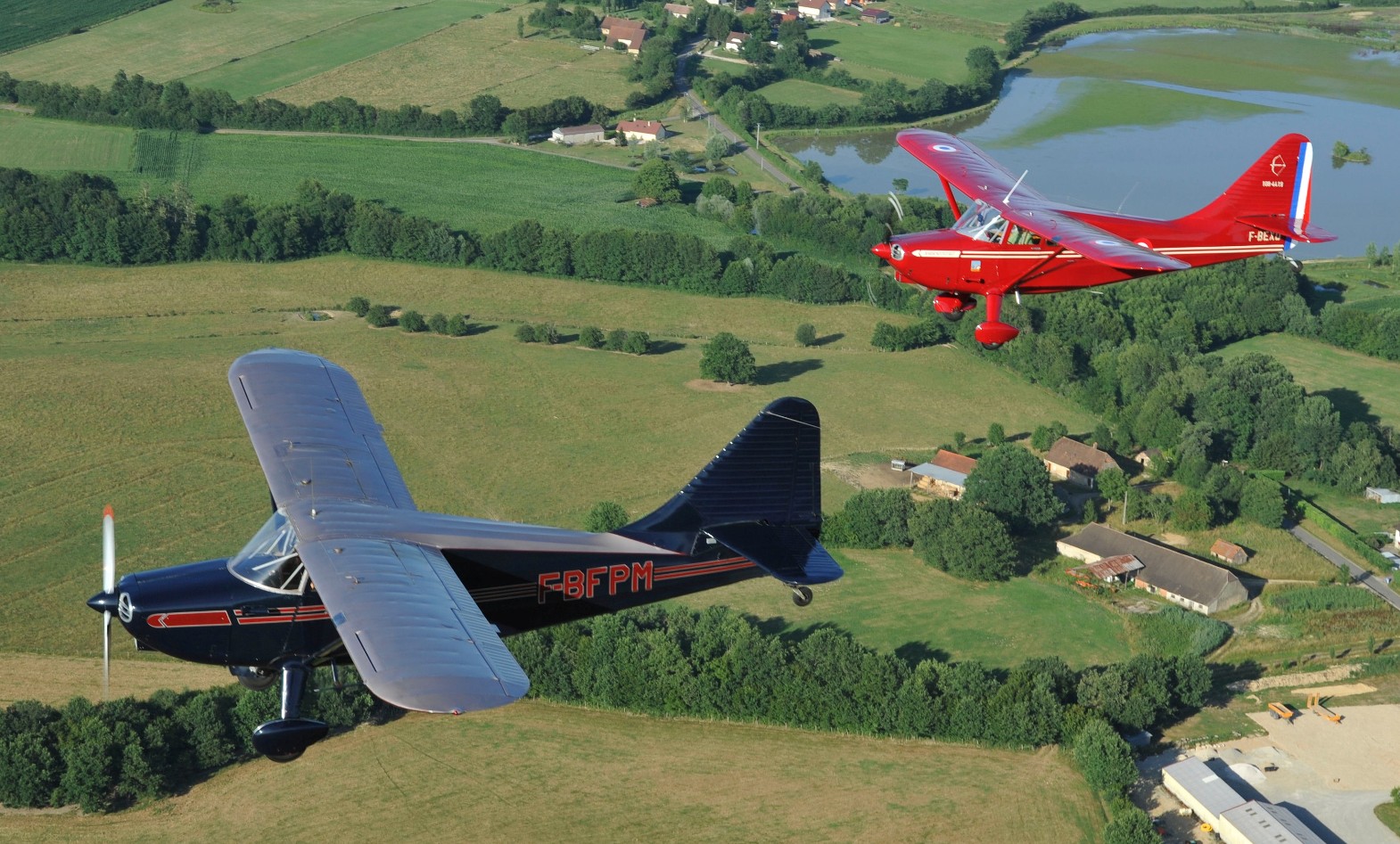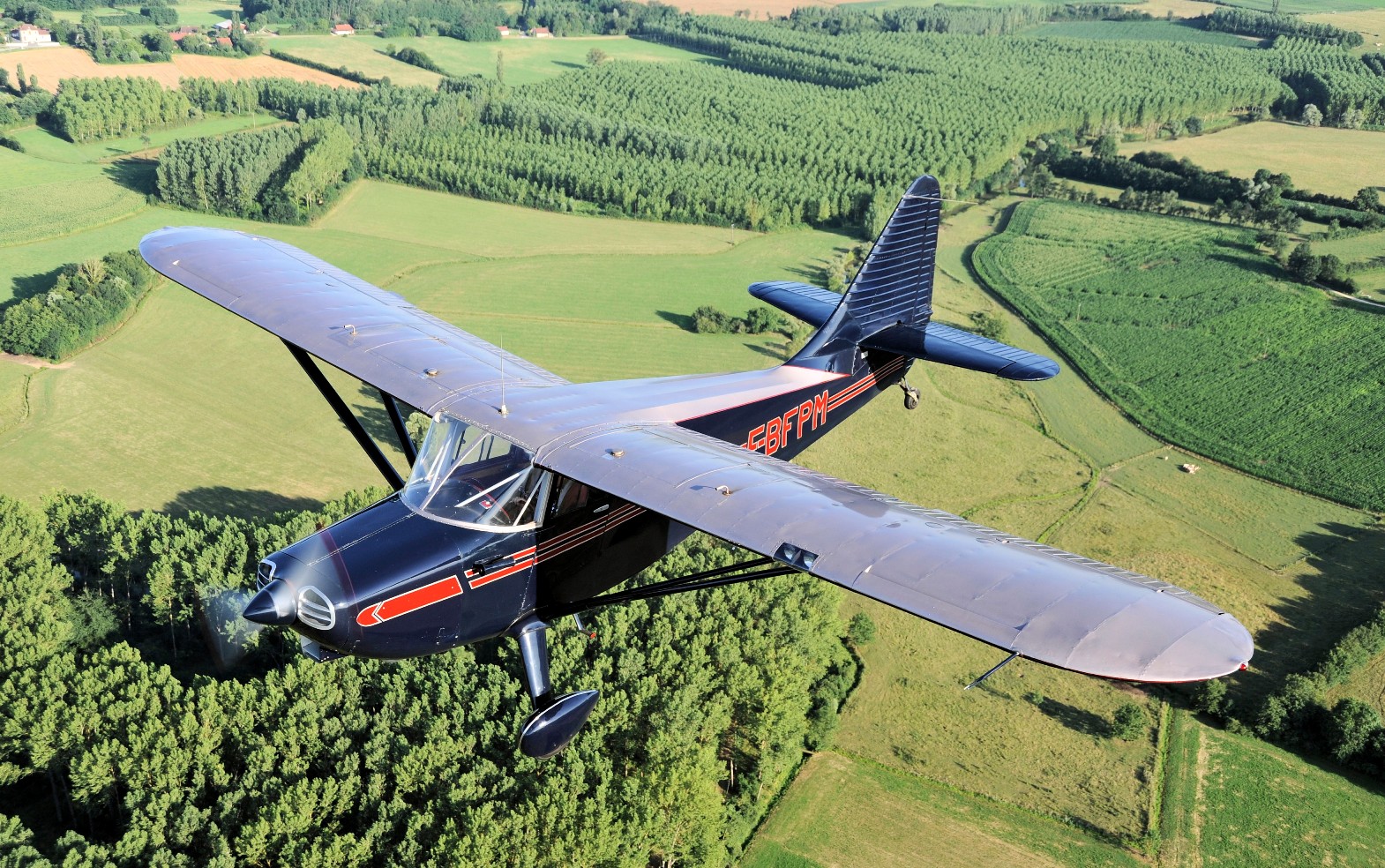 September 27, 2010. Henri Payre sent these photos from France. He wrote , "We had in July a nice Fly-In in Lons-le-Saulnier (LFGL) located in the French Jura and made a few photographs. The photographer was Joe Rimensberger, from Lausanne, shooting from a C170 with the right door removed. The two Stinsons are F-BFPM and F-BEXD, the only two 108-3 registered in France and flying there. " The blue and silver Stinson, F-BFPM belongs to Henri. The other Stinson, F-BEXD, serial number 108-4419, belongs to Alain Flotard and was used by French forces as a liaison aircraft in Indochina (Vietnam) in 1951. It was recently brought back to France from Switzerland (where it was registered as HB-TRS) and restored to the paint scheme used by the French military in Indochina.

September 29, 2010. Bob Steelhammer sent this photo of his landing at Airventure 2010 in Oshkosh, Wisconsin. N311C is a 108-2 with a Lycoming O-360 and a Hartzell constant speed prop. Bob lives near Atlanta, Georgia.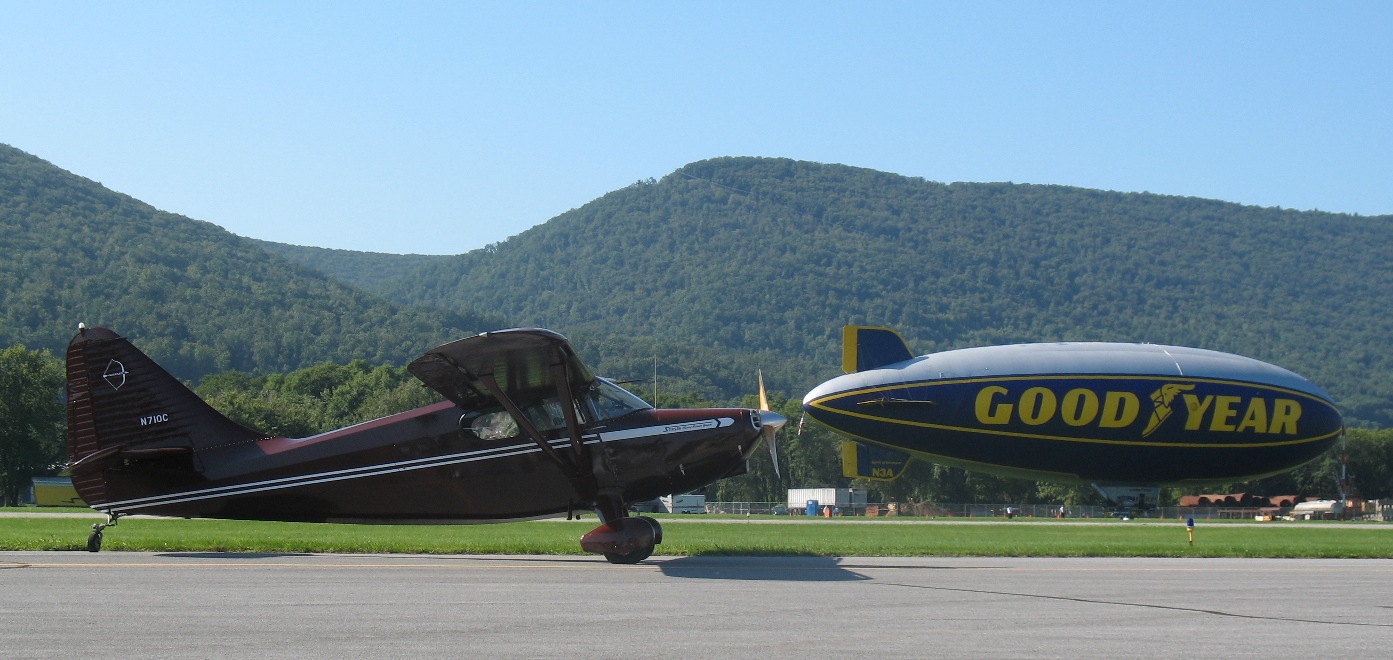 August 30, 2010. Alan Uhler sent this and said, "Couldn't resist this photo of my bird." N710C is a 108-3 in the original colors. Alan is from Bellefonte, Pennsylvania.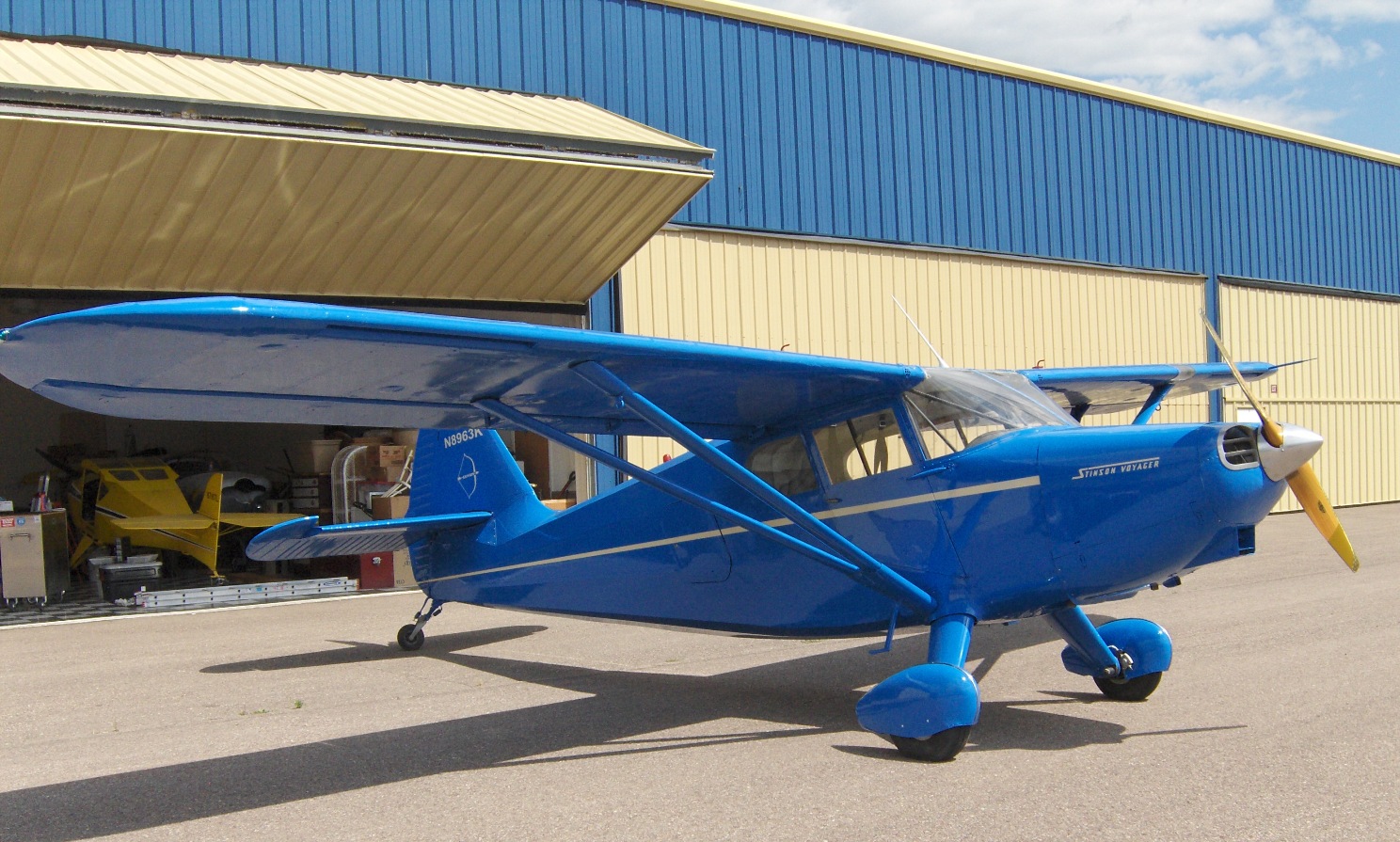 August 16, 2010. Delbert Schneider of Kalispell, Montana sent this photo of his N8963K. It is a 108-1 that has been upgraded with a 165 Franklin. The plane was damaged in September 2008 when a crosswind gust turned the plane sideways on roll-out. The right landing gear and fuselage fabric were damaged, as well as a prop strike and right wing tip damaged. After repairs, Delbert completed a re-fabric job with Superflite VI. The color is Bahama blue with ivory trim. It was finished in August 2010.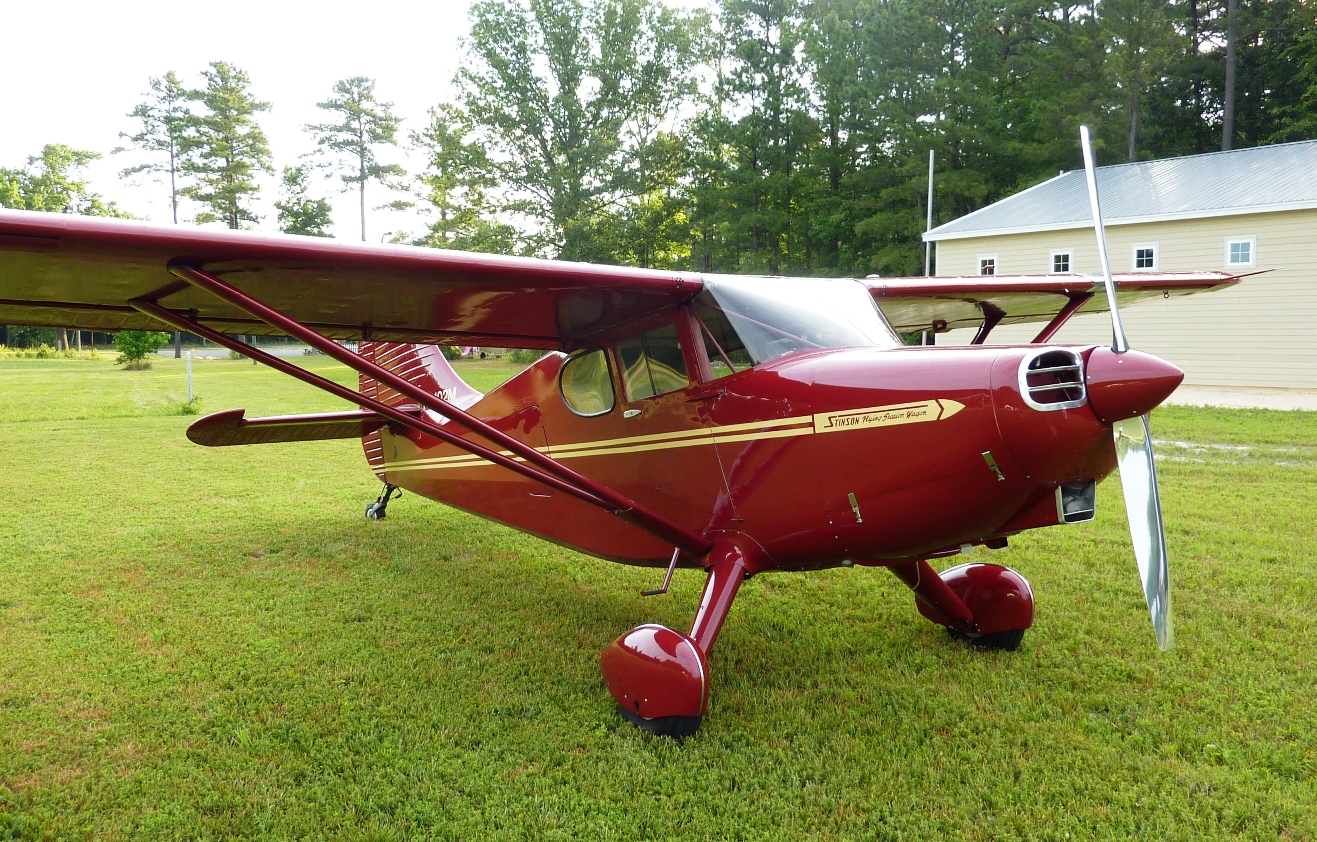 June 25, 2010. Dennis Crenshaw owns this pretty Stinson 108-3, N6102M. I took this photo in my back yard when Dennis came to visit.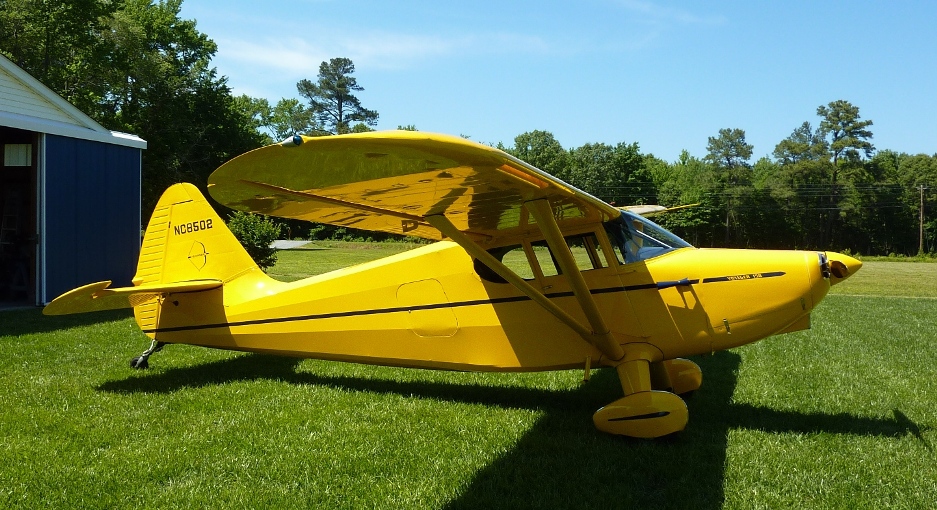 May 20, 2010. NC8502 is now based just across the runway from me at VA99. I took this photo of Mike Roe's 108-1 a few days after it arrived. Serial number is 108-1502. It is one of a small number of Stinsons that came from the factory painted yellow.
May 3, 2010. Here's something different - and another example of a "working" Stinson. Lynn O'Donnell sent these photos with a note indicating this was one of two Stinson "Mules" built with a Pratt and Whitney R-1340 motor and enlarged door openings. I believe this started as a V-77 based on the registration number. This one was used for skydiving operations on the east coast. It is no longer on the FAA registry. Notice the metalized fuselage, the wind deflectors at the leading edge of the door openings, and the extended jump platform.
December 8, 2009. Lynn O'Donnell sent these photos. N4171C, is a Stinson 108-3, owned by Robert Hadow and Lynn O'Donnell. These pictures were taken by Henri Payre of France on his first ever trip to Oshkosh in 2007. Henri, along with Heinz Bitterman, flew another Stinson in formation with N4171C from NJ to Watertown, Wisconsin to meet up for the mass fly-in to Oshkosh.
November 6, 2009. Don and Wanda Goodman, of Goode, Virginia, flew into VA99, home of Hangar 9 Aeroworks on a very windy morning. A skilled pilot and a capable airplane handled the gusty conditions and short airstrip impressively. This 108-3 has won many awards and has been featured on the cover of Vintage Airplane Magazine. It is powered by a 180 horsepower Franklin and features a constant speed prop. It sure was nice to look out my back door and see this beauty parked on the grass.
Updated 11/6/2009. A new red bike and a new blue Stinson. This photo was taken around 1948. The little boy in the photo is Bill Marks. The Stinson, NC332C, a 108-2 Flying Station Wagon, belonged to Bill's Dad, Owen Marks, who bought this Stinson when it was new. Owen Marks owned and operated Marks Flying Service at Marks Field, Lawton, Michigan. Marks Field closed more than 25 years ago and became Marks Golf Course. The plane was located by Bill Marks and registered in his name in 2007. I received an email in November, 2009 from Tom Brucks who said his Dad learned to fly at Marks Field after WWII and flew this plane in the fall of 1947.
February 15, 2009. Mark Meiggs sent this photo of his extraordinary 108-3, which he has named "Patty". It has been converted to a 108-5 with the switch to a 180 horsepower Franklin 335B1 purpose-built by Greg Lucas along with a McCauley C21 CS propeller. Notice the many other visible modifications to this Stinson including Cleveland brakes, observer doors, one piece windshield, split cowl, and vortex generators. Mark says, "My intent was never to authenic-ize the restoration but to include modifications that were safety related and performance enhancing but, alas, too numerous to mention. I suppose you could call Patty a retro restoration. "
December 20, 2008. British photographer Terry Fletcher sent this photo he shot while touring Alaska. This is an example of a "working airplane" and so lacks the polish of many of the restored classics pictured here. What is amazing is that this plane is still earning its keep after 75 years. This is a 1933 Stinson Junior, NC13822, serial number 8774, registered to Fred and Mark Walatka of Anchorage. Fred Walatka is a civil engineer who operates a land surveying firm in the Anchorage area.
November 15, 2008. Ray Johnson sent this aerial photo of NC949D, a 108-2 restored to perfection by the late Butch Walsh. 949 Delta is now owned by Dana Segler of Granbury, Texas.
November 5, 2008. Bob and Pat Pustell sent this photo of their metalized 108-2 Voyager, named "Miss Rose." Serial number is 108-2419 and the registration is N9419K. Miss Rose is based at Windsock Village Airpark in New Hampshire.
September 16, 2008. Terry Fletcher sent this photo of an L-5, serial number 1428, believed to be the only one flying in the UK. The aircraft was photographed at the 2008 Vintage and Classic Fly-in at Turweston , UK. It was apparently restored a couple of years ago and is now based in Norfolk in the UK - but still retains its N6438C registration.
March 7, 2008. Steve Clouse of Ely, Minnesota, sent this photo of his 108-3. Restoration was completed in 2005.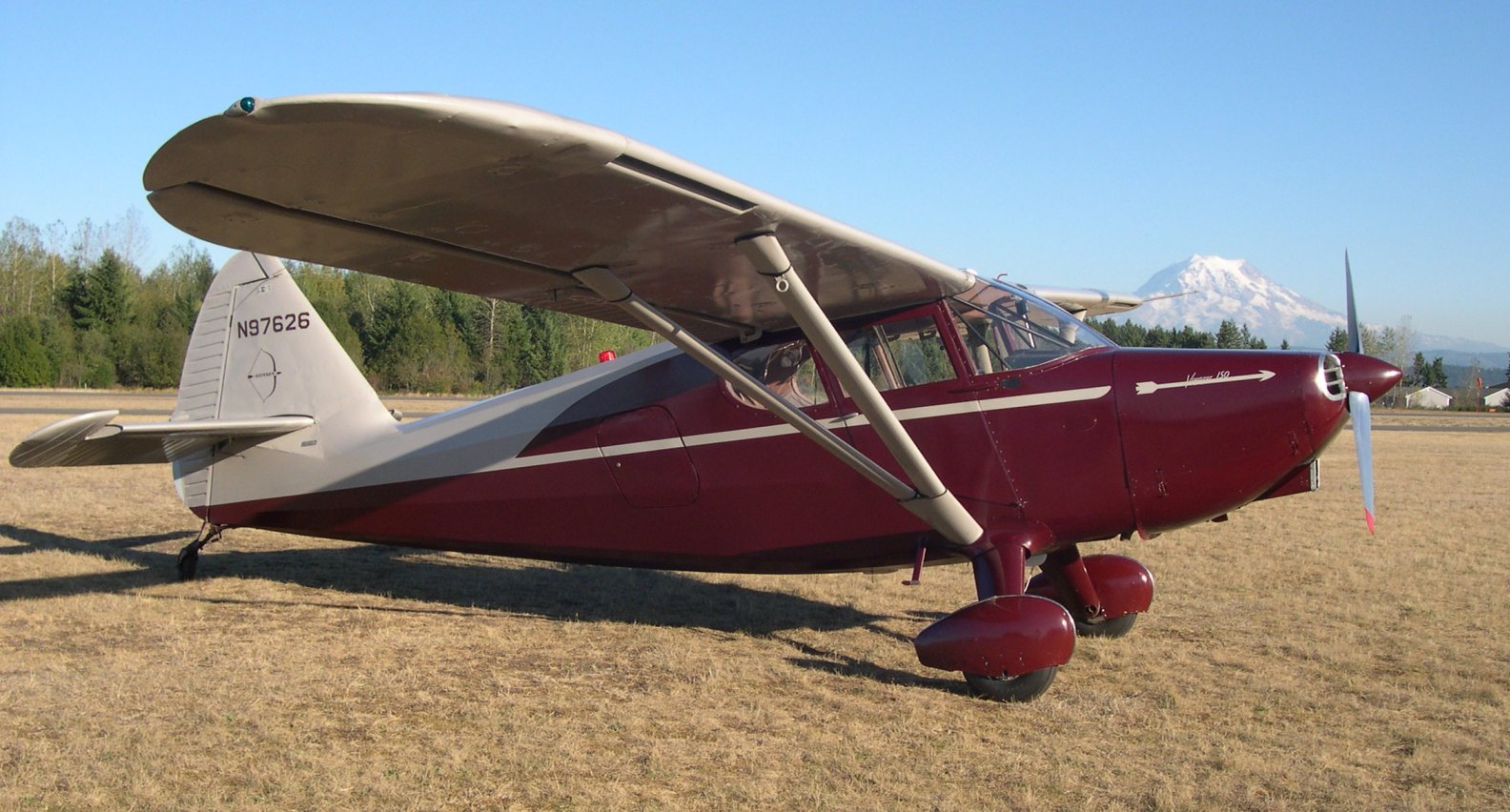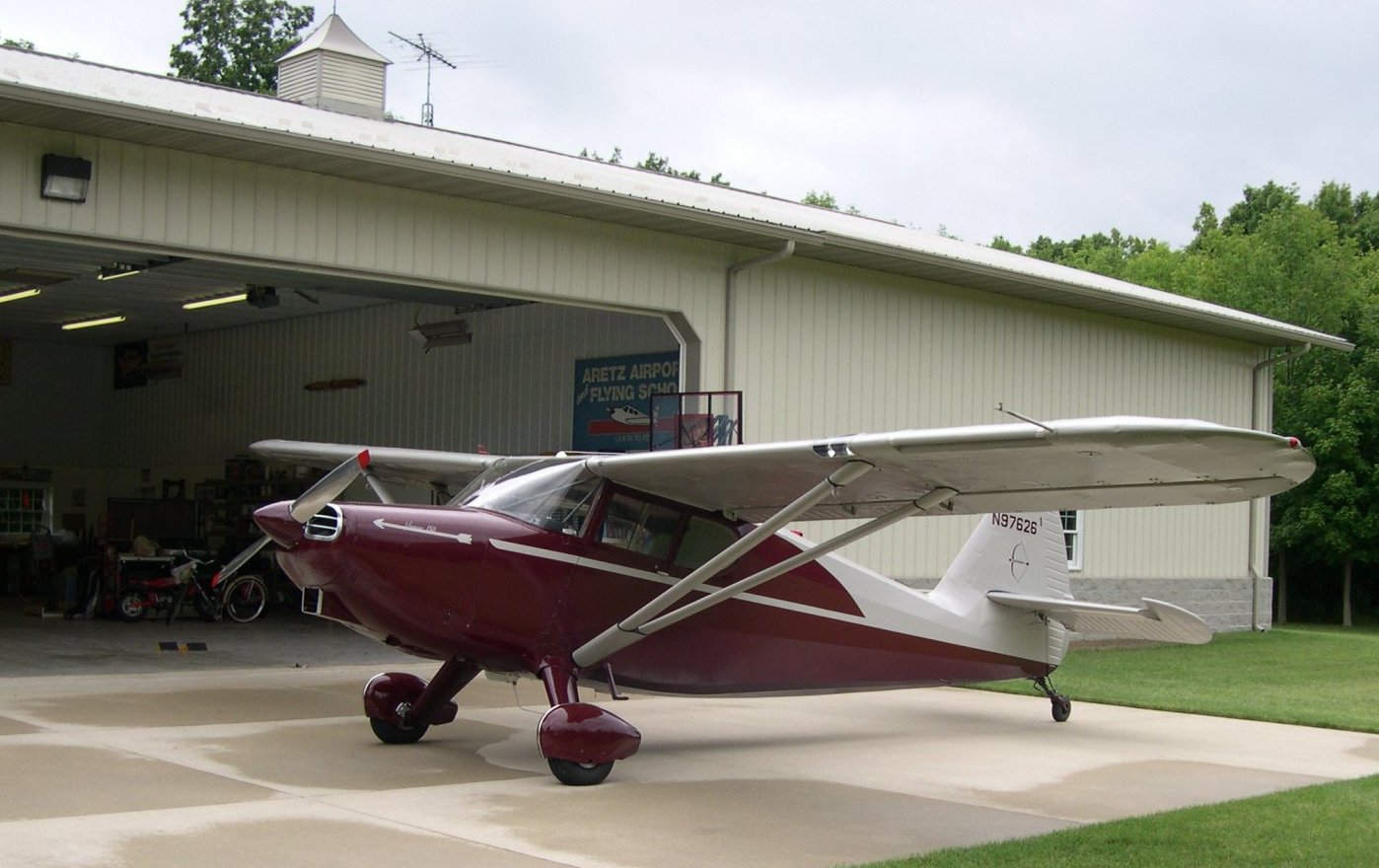 August 13, 2007. Jim Custis of Denver, Colorado, sent these two photos of his "straight" 108, N97626, serial #108-626. This beautiful "Voyager 150" has the original interior and has a full gyro system. Click on the images for a larger view.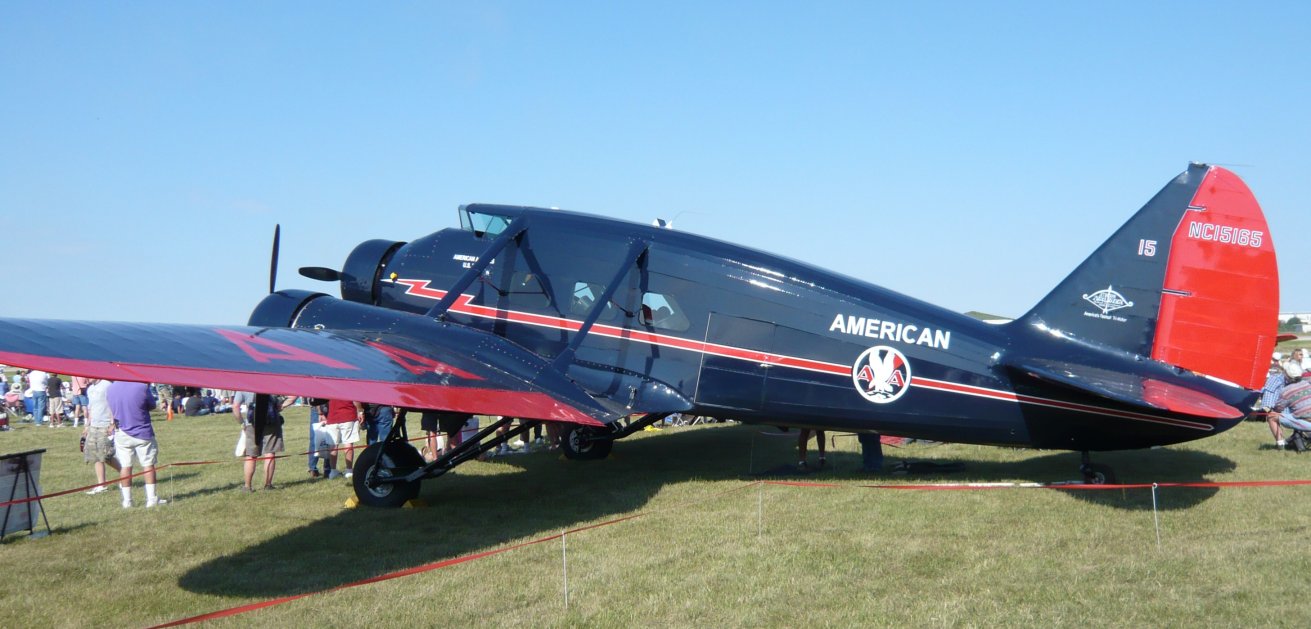 July 25, 2007, photographed at Oshkosh. Not your everyday Stinson, this Model A Trimotor is one of only 31 built, and the only one still flying. Owned by collector Greg Herrick.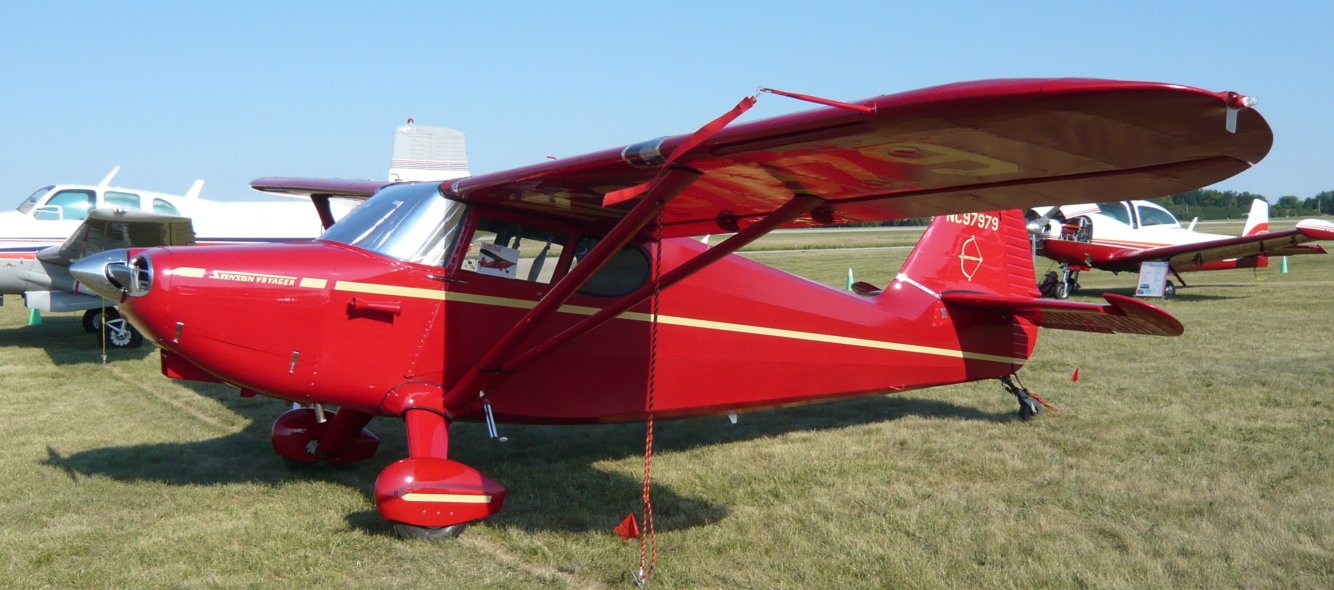 July 23, 2007, photographed at Oshkosh. Steve Smith's pretty red Stinson won the award for Outstanding Stinson in the Classic category. NC97979, serial #108-979 is a 108-1 that has been modified with a Lycoming O-360 engine. Notice also the 108-3 style side windows. Steve is from Santa Rosa, California.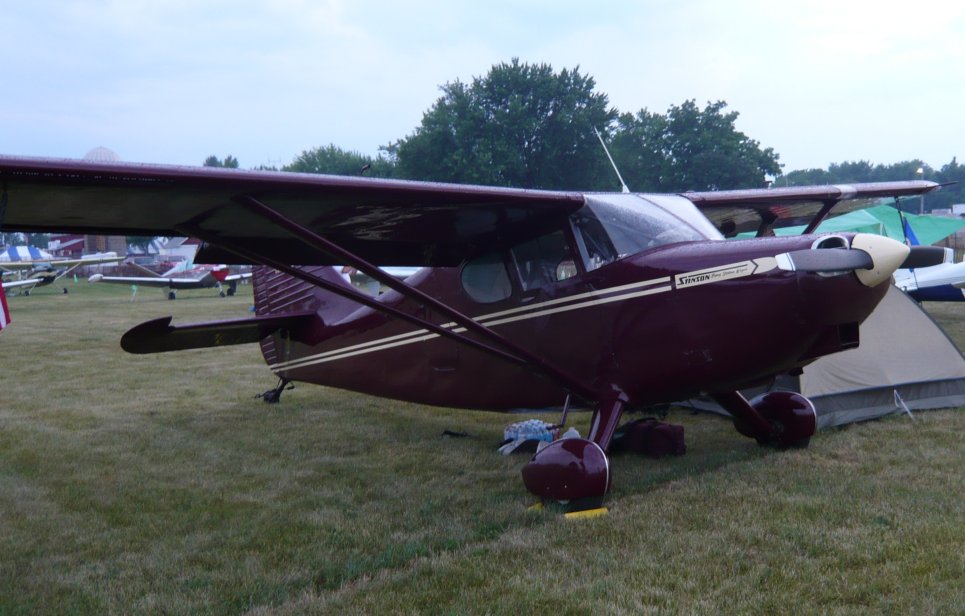 July 26, 2007. Jenny Rasmussen flew into Airventure 2007 in her 108-3, NC362C, serial 108-3662. This is a nice example of a metalized Stinson.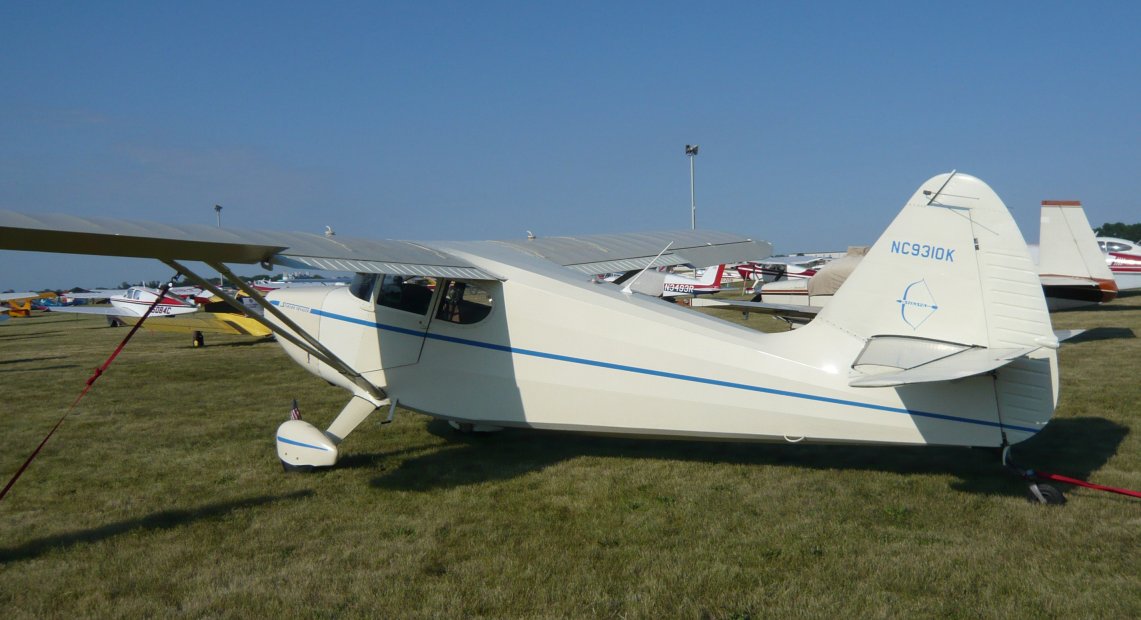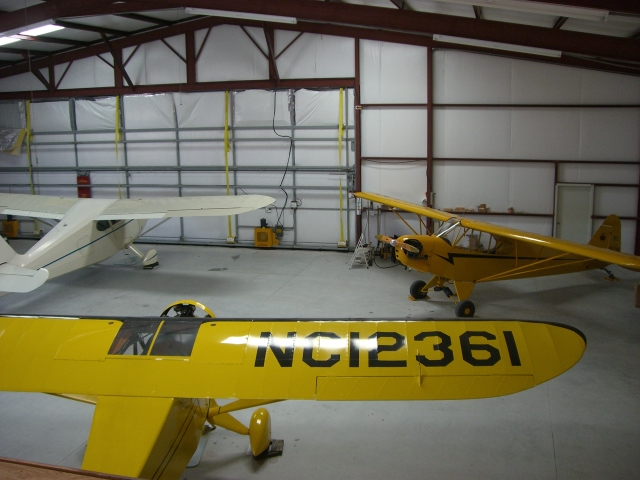 July 25, 2007. NC9310K, serial number 108-2310, was one of many nice Stinsons that flew into Oshkosh for AirVenture 2007. It is owned by Mike Fooshee of Austin, Texas. Mike is a retired Southwest Airlines captain and keeps his Stinson and his J3 Cub at his private airstrip outside of Austin. In March of 2008, Mike's nephew, T.J. Roberts sent a photo of Mike's hangar where he keeps his Stinson and Cub. The Monocoupe 90A in the foreground (with a Lambert engine!) is owned by Mike's friend, Southwest pilot Danny Hopkins.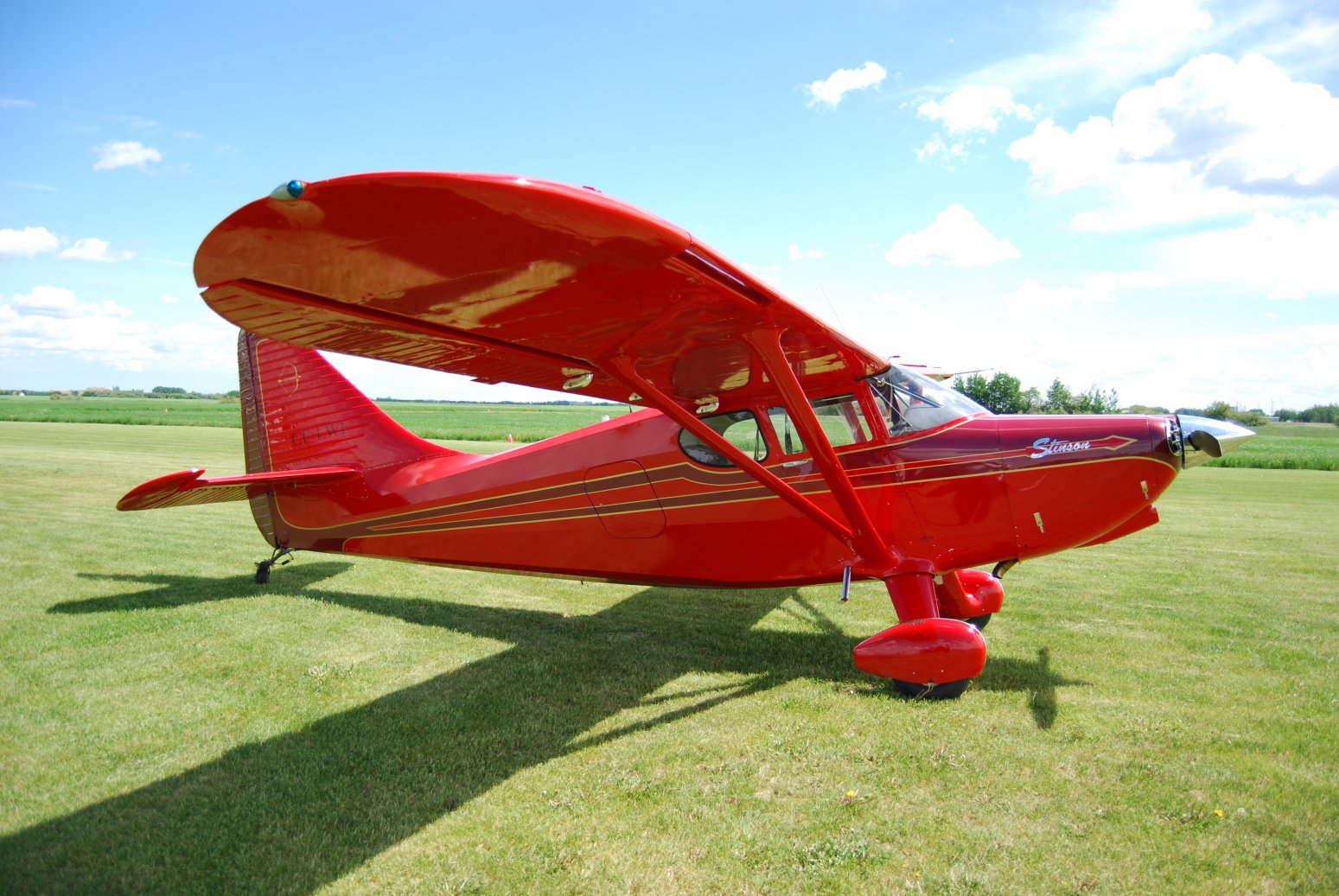 July 8, 2007. Simon Rose of Alberta, Canada, sent this photo of his beautiful 108-3, serial 108-4220, registration CF-LWI. The custom paint scheme is similar to one first seen more than two decades ago on a 108-3, N984C, owned by the late Ken Brock. This highly modified Stinson sports a 250 HP Lycoming O-540 and a constant speed Hartzell prop. When you click on the image for a larger view, be sure to note the beautiful custom strut fairings. Simon has applied for a Canadian STC for the engine conversion. Details on the engine conversion can be found in this MS Word Document that Simon prepared. Simon also has a very nice website featuring his stable of Stinsons at his home/airstrip - Rose Field.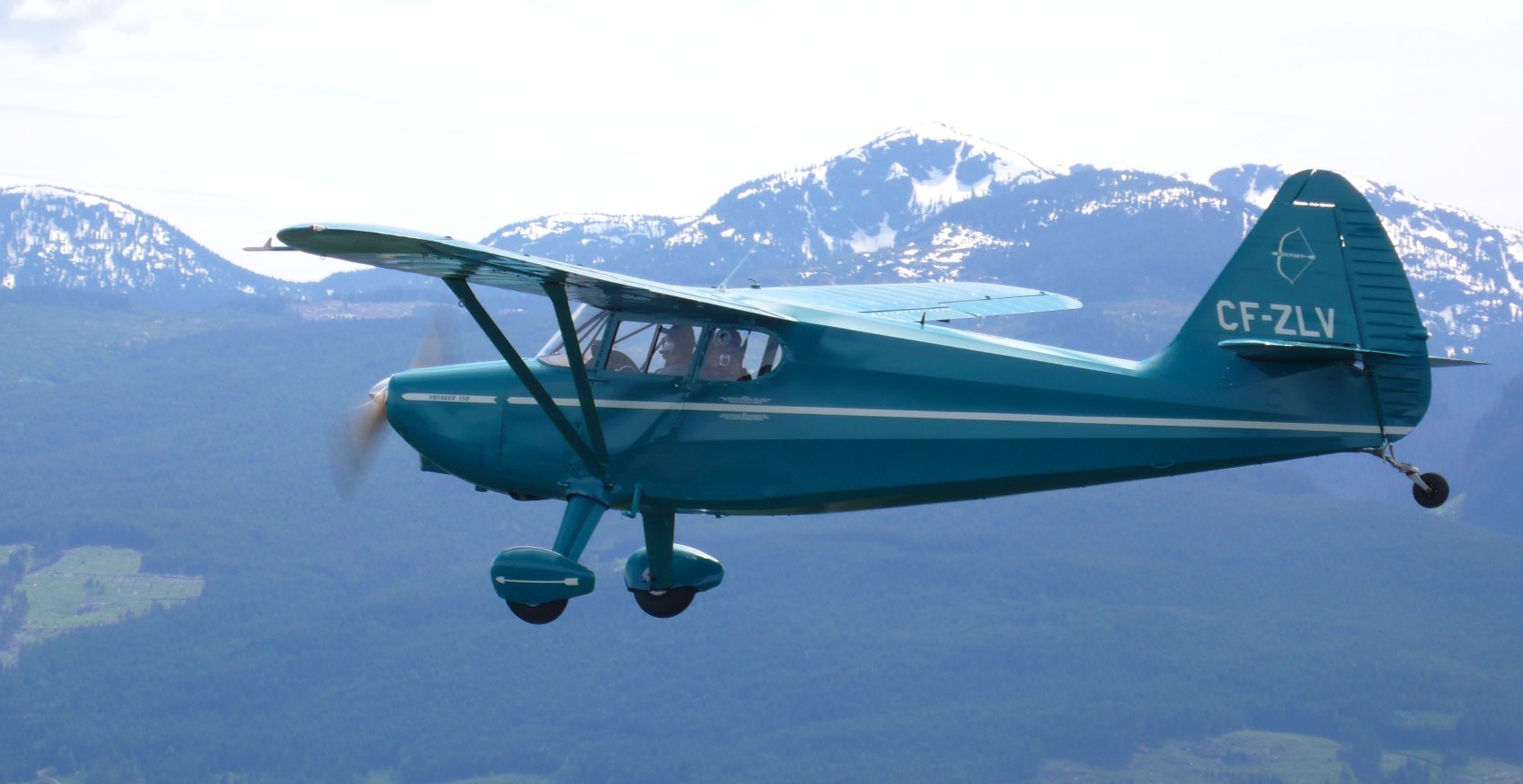 June 28, 2007. Mike Benoit of Comox, British Columbia sent this photo of this Voyager 150, serial 108-805. He restored it over a period of four years in his garage and made the first flight recently.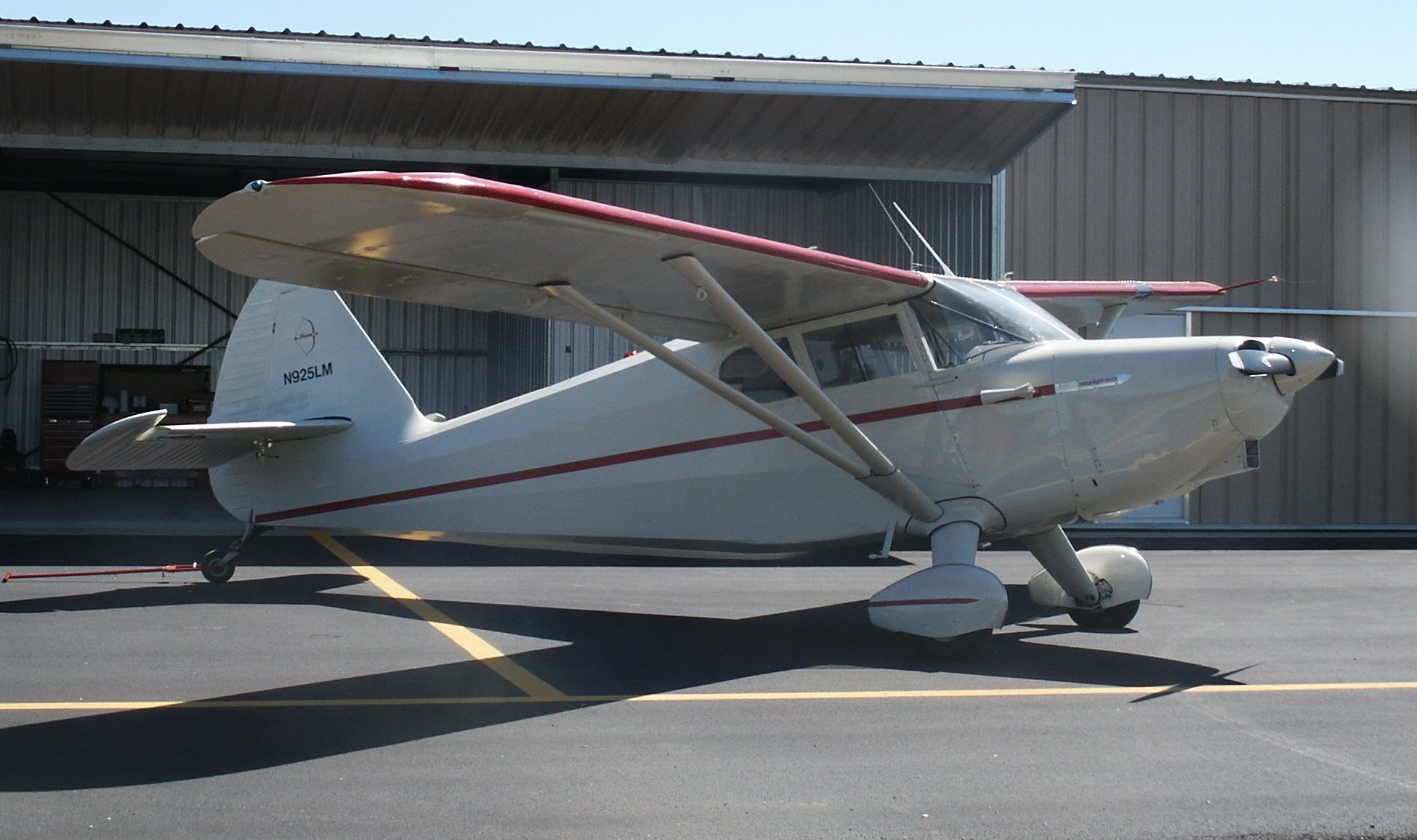 May 28, 2007. Larry Browning of Granbury, Texas, sent this photo of his early 108, serial number 108-97. It is now registered as N925LM, but was originally NC40167. The plane was owned by (and recovered by) his parents during the sixties but was later sold and then exported to Canada. Larry located the plane in Canada where it was under restoration by Dave Yacentiuk. Larry was able to purchase the restored Stinson and it was delivered to Texas in July of 2006.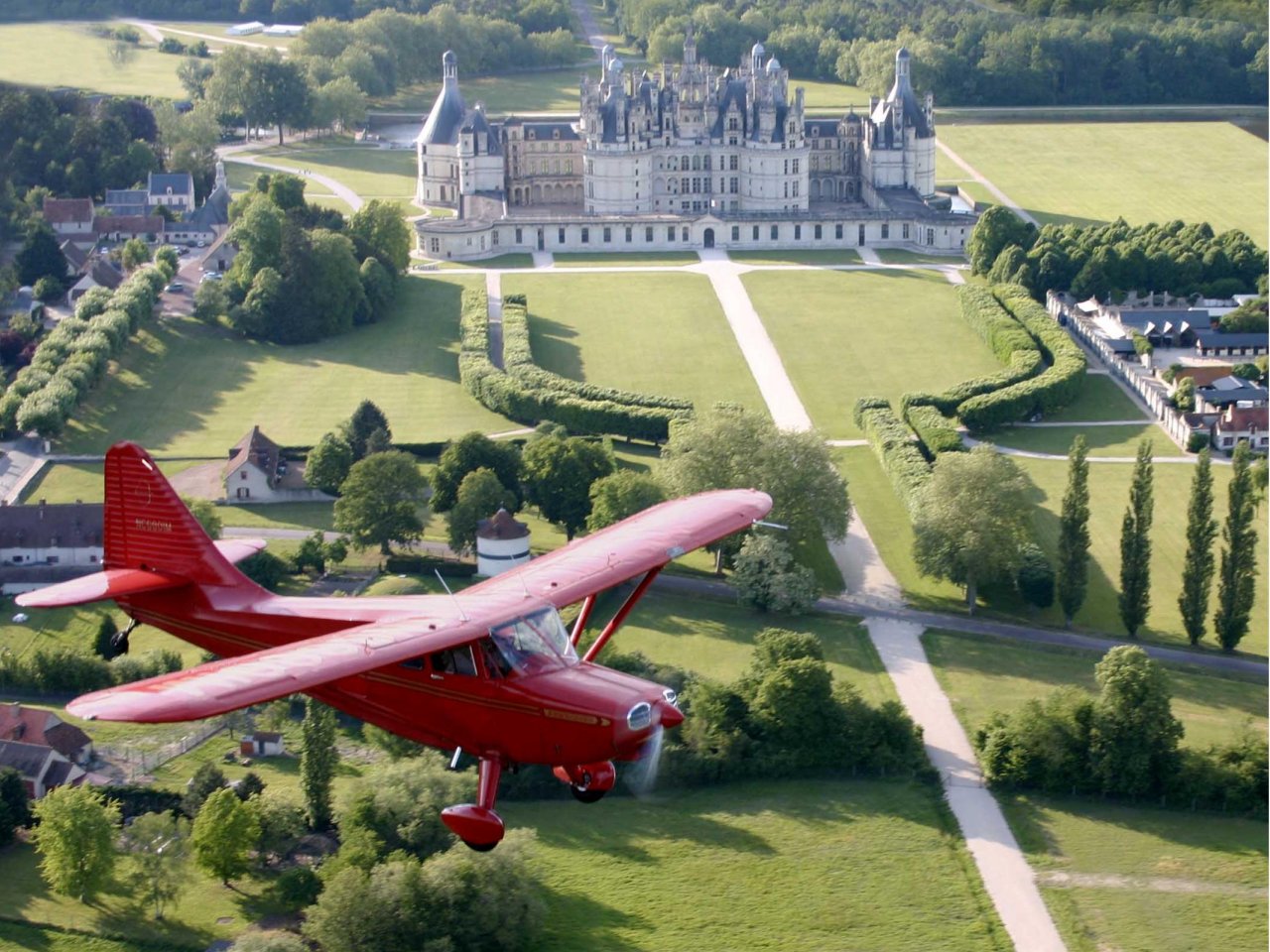 March 4, 2007. Heinz Bitterman sent this photo of this Stinson 108-3, N6801M, in flight past Chambord Castle in France. "It was shot by Renate Reeve of Johannesburg, South Africa, while she and her husband and another couple flew from Texel in the Netherlands via the Loire valley with all the castles to our home base in Southern France with us. Photo plane was a Piper Supercub. " Though based in France, N6801M is registered in the United States.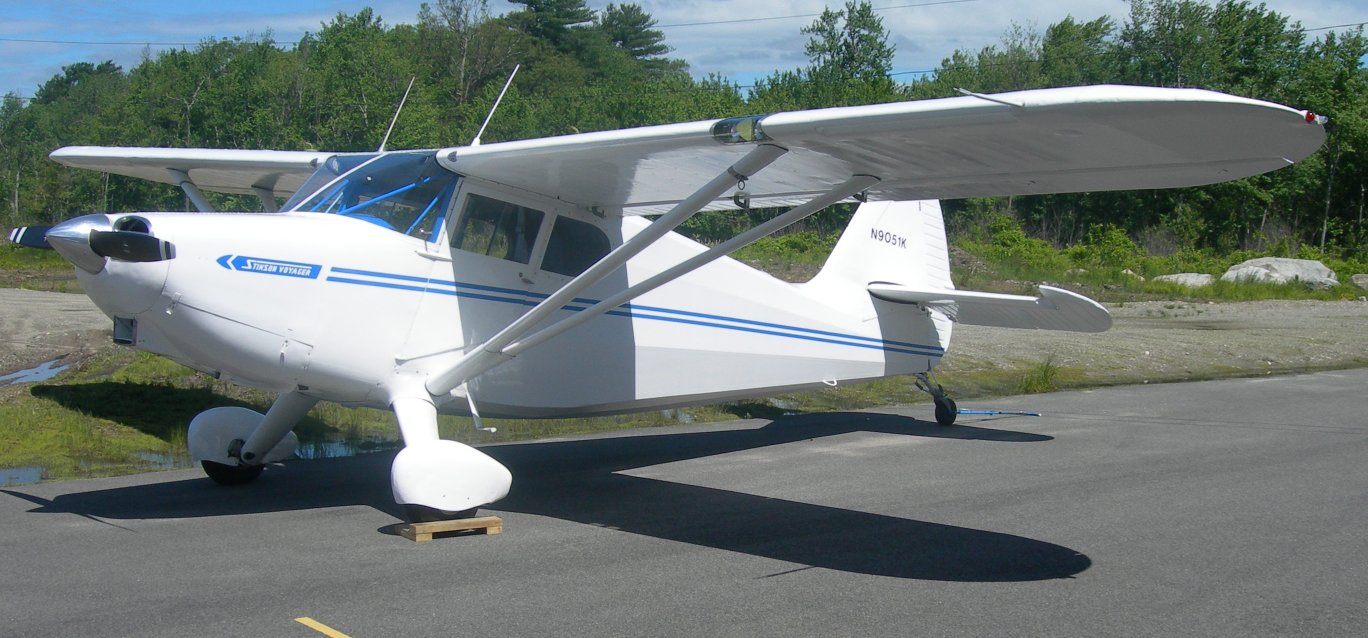 November 2006. Burton Schriber of Taunton, Massachusetts, sent this photo of his 108-1, N9071, serial 108-2051. Burton recently finished the restoration of his Stinson. He reported that Dick Ward and Butch Walsh were very helpful during the restoration process, both always willing to spend the time to share information with him. He was saddened to hear of the loss of these two great supporters of the Stinson Community. Burton also mentions that information from Hangar 9 Aeroworks was helpful as he completed the restoration.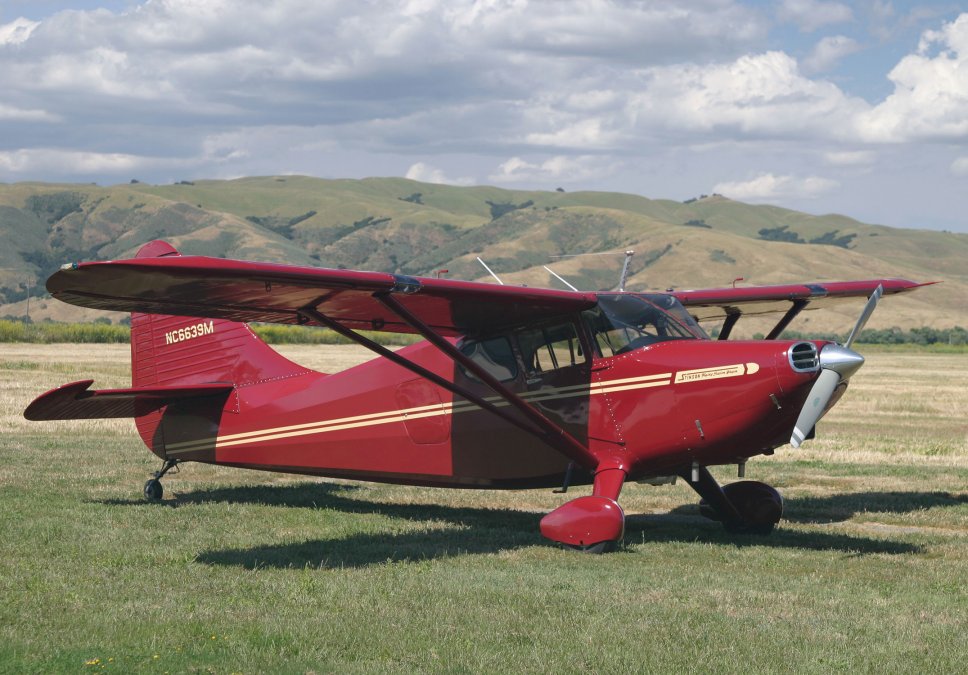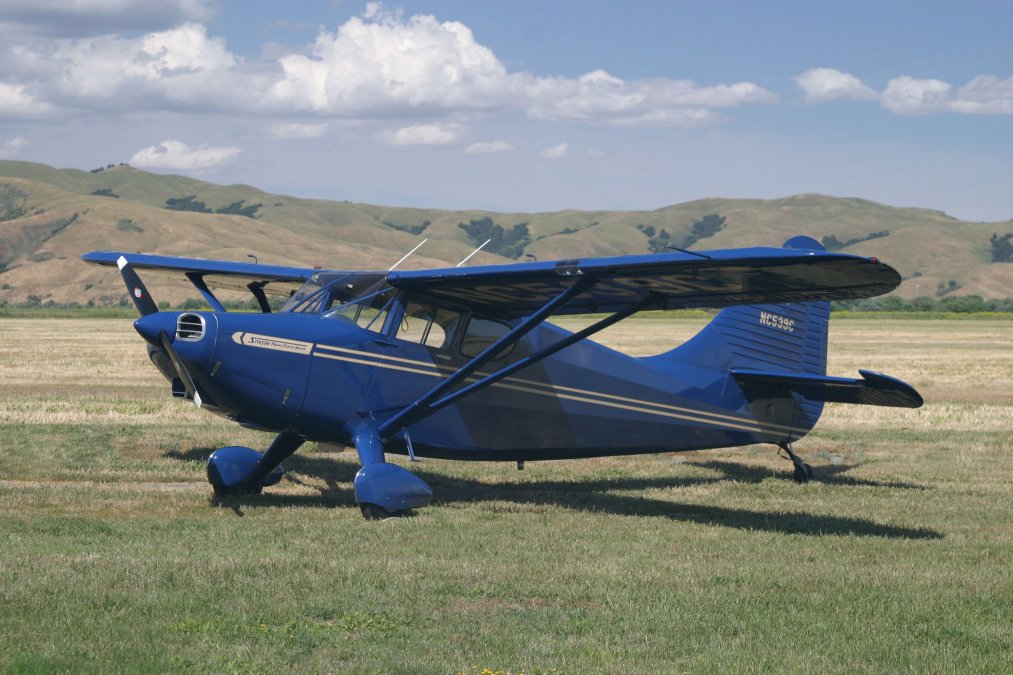 September, 2006. Tom Reeves sent these photos of two Stinson 108-3's. The photos were taken at Frazier Lake Airpark, 1C9, in Hollister, California. With few exceptions, Stinsons for model year 1948 were available in Stinson Maroon or Blue, though the majority were maroon. The blue one here, NC539C, serial 108-3539, belongs to Tom, who is from San Jose, California. The maroon one, NC6639M, serial 108-4639, belongs to Steven and Nancy Foster of Morgan Hill, California. The production run of the big-tail 108-3's was long, with serial numbers running from 108-3501 through 108-5260.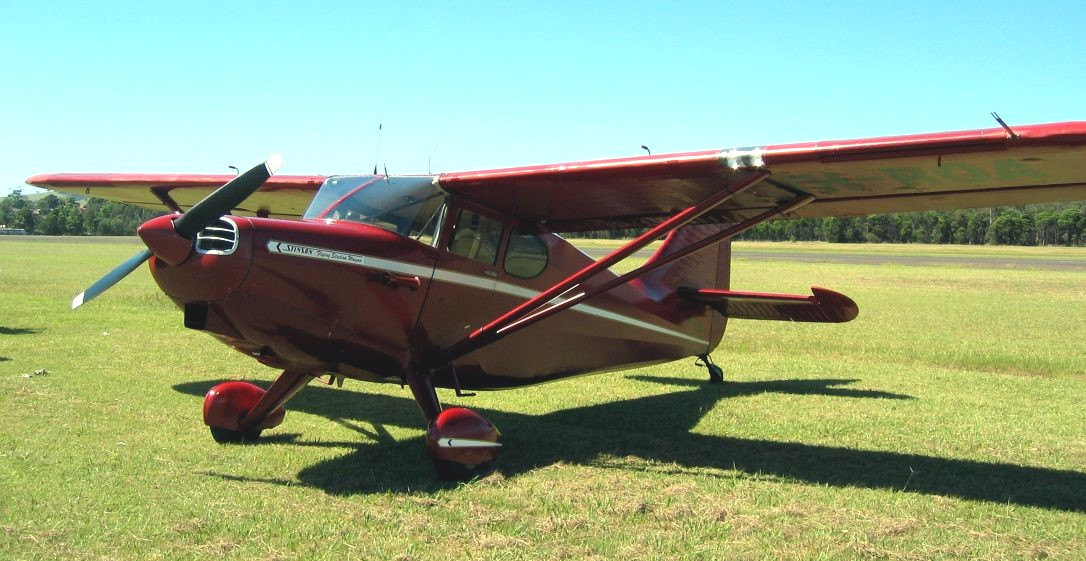 September, 2006. Maurie Evans sent this photo of his 108-3 from "down-under." Registered as VH-ROA, serial number 108-5215, this Flying Station Wagon is based at Wedderburn, about 50 miles southwest of Sydney, Australia. Maurie reports, " The photo was taken in Feb 06 at a fly-in at Wollongong airport which is about twenty miles south of my home airport at Wedderburn. My Stinson now has 1007 hours total time and runs the 165 Franklin which has 175 hours since total rebuild. The Aircraft was imported into Australia from the USA in 1994. I enjoy looking at your website and keeping up with all the news on the Yahoo Stinson group. Thanks for providing so much information about Stinsons."

August, 2006. Charles Hauser sent this photo of his Stinson 108-3, NC6233M, serial number 108-4233. This Stinson was restored by Butch Walsh and won Grand Champion awards at Oshkosh and Sun 'N' Fun. For more photos and information on 33M, go to this link.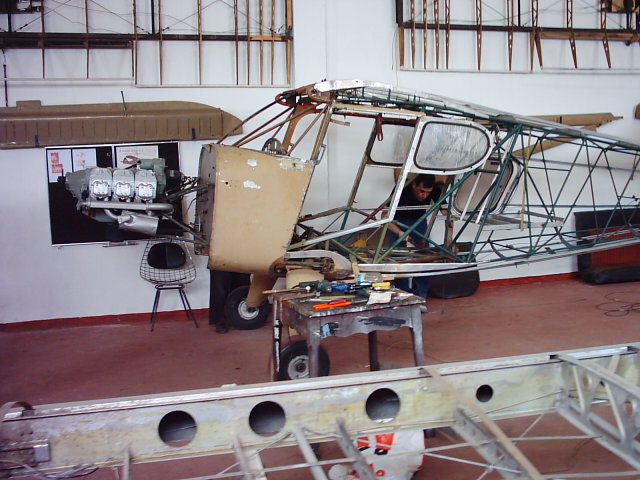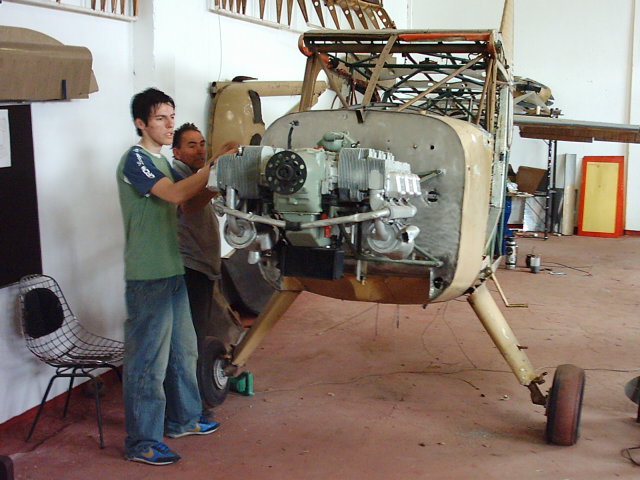 July, 2006. Sebastián Torterolo of Montevideo, Uruguay sent these photos of a Stinson 108-3 project under restoration there. The plane is owned by the "Museo Aeronaútico" (Aeronautical Museum of Uruguay). Sebastián is a volunteer from the AAMA ("Asociación de Amigos del Museo Aeronáutico" / Aeronautical Museum Friends Association). This Museum depends on the Uruguayan Air Force, and collects both civilian and military aircraft that were used in Uruguay since the beginnings of the century. The museum was devastated by a fire in 1998 and since then there is a big effort to recover some pieces. Other ones, some of them unique pieces in the world (like a Potez 25) were lost forever. The AAMA is working hard on the restoration of the Stinson. The Voyager was a very popular plane in Uruguay in the 50`s, and today there is one still flying there. The museum is restoring this aircraft with the help of many volunteers around the world, that work in the "hangar" and help in many other ways, from making donations of manuals, constructing pieces, or just providing information that is needed to achieve a good restoration. This Stinson is serial number 108-5225. It is registered as CX-ALL. It is one of four Stinsons delivered to Uruguay on June 29, 1948. Sebastián would like to hear from Stinson owners who can provide detailed dimensions for the wood parts of the baggage compartment. You can contact him by e-mail at: sebastian.torterolo@branaa.com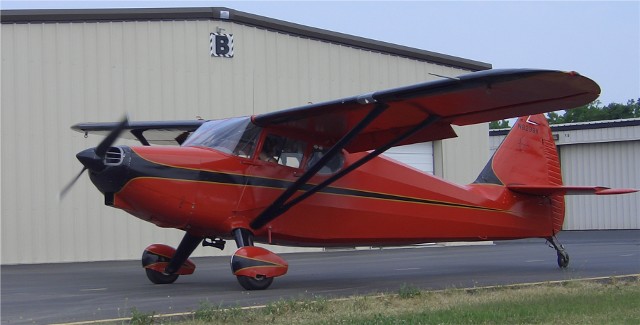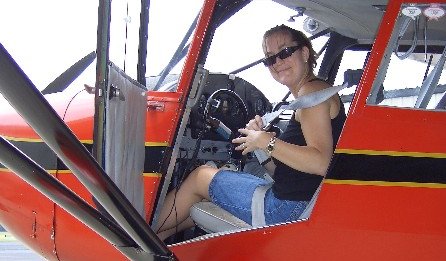 June 26, 2006. Paula Swift has owned N8299K, a Stinson 108-1, since February 2005. This Stinson retains the stock 150 horsepower Franklin engine and the original instrument panel. The photo was sent in by Paula's husband Sam. They live in Nashville, Tennessee and the aircraft is based in Lebanon, Tennessee (M54).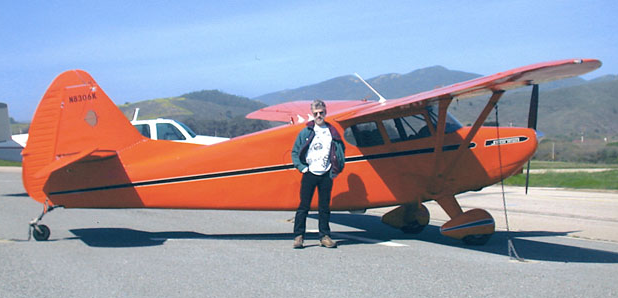 June 1, 2006. Brian Moffet of Santa Cruz, California sent this photo of his metalized 108-1 Power is from a 165 HP Franklin. Photo was taken at Half Moon Bay Airport in California.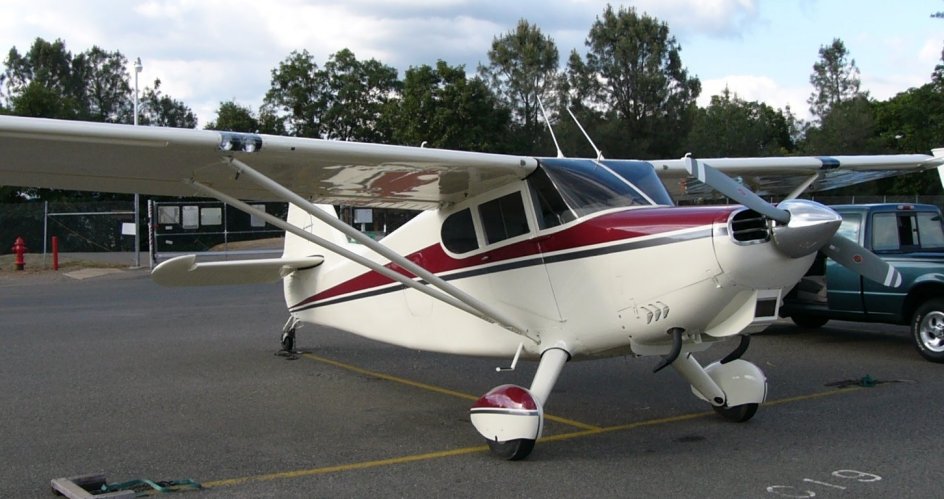 May 30, 2006. Jim Hogan sent this picture of his 108-2, N9503K, fresh from the paint shop - Nor-Cal Aircraft Refinishing, in Orland, CA. The plane is all metal except for the ailerons and has the Lycoming O-435 / Hartzel combo for motivation. Note the modified lower cowl, the larger spinner to accommodate the Hartzel prop, and the modifed exhaust to accommodate the Lycoming engine.

April 26, 2006. I received this note and photo from Ian Harvie of New South Wales, Australia: "Enjoy your excellent web site. Just thought you might like an "International" flavor for the site and have attached a shot of my Stinson VH-JKD flying just North of Sydney. Previously ZS-UKD and when I bought it in 1976 ZS-BHH. Serial number is 108-1-833. Now due it's second rebuild (due to the Goodyear brakes!) Ian
Back to the Hangar 9 Aeroworks Main Page